Patient Page
Mission Statement: "To assess and improve the quality of care provided to individuals with End Stage Renal Disease."
Vision/Goal: "To facilitate effective, efficient quality patient care that results in better outcomes, safety and satisfaction through patient advocacy, collaboration, education, monitoring and mentoring with professionals and patients in the renal community."
For Patients and Family only


Network 13 toll free: 1.800.472.5823
ESRD Network 13 is dedicated to providing up-to-date information for patients with ESRD and their families. The links provided on the left column should navigate you to this information.
1. Dialysis Patient Information
2. Transplant Information
3. Patient Workshops
4. Patient Advocacy Committee (PAC)
5. Network Patient Representative (NPR)
6. Dialysis Facility Search
7. Patient Support – Education / Events
8. FDA – Patient Safety News
9. Grievance Policy
10. Vocational Rehabilitation
11. Patient Educational Resources
12. Link to Medicare Part D Resource Web Page
13. Link to Patient Newsletter Web Page
14. Hospice Payment System fact Sheet
15. Facility Posted Posters
16. Dialysis Facility Compare (DFC): Provides Database-search for All Medicare Approved Facilities in the U.S.
Patient Grievance Poster (PDF 8 by 11 size)
Right and Responsibility Poster (PDF 8 by 11 size)
Are you Ready? Steps to Consider for Dialysis Patient and Family Disaster Planning (PDF 8 by 11 size)
---
Click below for
Dialysis Facility Compare (DFC) Web Site
DFC website provides important information and resources for patients and family members who want to learn more about chronic kidney disease and dialysis. Provides Database-search for All Medicare Approved Facilities in the United States.
DFC will allows you:
Find and compare information about the services and quality of care provided at dialysis facilities in any state. You can also find addresses and phone numbers for each facility.
Read more information about the Dialysis Facility Compare website and Medicare coverage for dialysis.
Data Details: Learn how and where information for dialysis facilities is collected.
Resources: Find information and links to other web sites on kidney disease and dialysis treatment,including chronic kidney disease, hemodialysis, peritoneal dialysis, pediatric dialysis, kidney transplants, and family support.
You may now SEARCH facilities and VIEW the facilities on and Interactive Map to easily view their location BY:
By Name (Dialysis Facility Name)
By Proximity (City and Zip-code)
By Geography (State and County)
Dialysis Patient Information
What to Ask Dialysis Care Providers
What to Ask About Dialysis Centers
Patients' Rights and Responsibilities
Decreasing Dialysis Patient-Provider Conflicts (DPC) http://esrdnetworks.org/special-projects/copy_of_decreasing-patient-provider-conflict-dpc
CDC- Guideline for Vaccinating Kidney Dialysis Patients.
http://www.cdc.gov/vaccines/pubs/downloads/b_dialysis_guide-508.pdf Posted 8/10/2007
This is a link to a patient resource on Home Hemodialysis from NIDDK:
http://www.kidney.niddk.nih.gov/kudiseases/pubs/homehemodialysis/
Medicare Part D Enrollment begins November 15th and your Rx Network is in the process of putting our members' enrollment events on a central calendar. Click here for the calendar with events we are aware of at the present time. Click here for some helpful Medicare materials from the CMS Web site. Posted 11/20/2008
Transplant Information
The following links lead to Web sites that have valuable information about kidney transplantation. If you or a loved one are considering transplantation, these sites may answer your questions about the process.
United Network for Organ Sharing
Kidney School
American Society of Transplantation
Patient Workshops – "Kidney Community Gatherings"
ESRD Network 13 patient-family workshops are called "Kidney Community Gatherings." These workshops provide an opportunity for Network 13 to communicate with chronic kidney disease (CKD) patients, their families and the larger community about kidney disease. The gatherings provide an open forum for discussing the independence of self-care modalities that may improve the quality of life and contribute to the rehabilitation of patients. In addition, the workshops serve as an opportunity to promote quality of life and networking among individuals within the dialysis and transplant population and as a chance for the professional community to interact with patients outside the treatment environment.
Get a sneak peek inside a Kidney Community Gathering here!
What is a Kidney Community Gathering?
Each workshop begins with an introduction followed by an educational video about chronic kidney disease, followed by a Q & A session with a local registered nurse. Next, a Network staff member discusses the role of the Network. A local renal dietitian then provides a demonstration regarding easy, renal-friendly cooking ideas. The program finishes with a patient keynote speaker discussing an educational topic of choice, and a patient panel discussion. A dialysis professional is present at every workshop to clarify clinical issues and questions.
Past Workshops:
New Orleans, LA on 10/31/2010
Forth Smith, AR on 09/19/2010
Tulsa, OK on 08/15/2010
Ruston, LA on 03/21/2010
Lawton, OK on 09/27/2009
Texarkana, AR on 06/14/2009
Patient Advocacy Committee (PAC)
PAC MISSION STATEMENT
The mission of the Patient Advisory Committee is to express the opinions of the ESRD patient population of Network 13 serving the states of Arkansas, Louisiana and Oklahoma. PAC members represent the ESRD patient population by actively participating in Network duties designed to promote quality care.
What is the Patient Advocacy Committee?
By Heather Powell, Former PAC Member
The Patient Advocacy Committee (also known as the PAC) is made up of kidney patients and caregivers from Network 13 and was started in the early 1990's. Network 13 covers the states of Louisiana, Oklahoma, and Arkansas and has one main clinical board, the Medical Review Board (MRB). Under the MRB there are the Grievance, Patient Advocacy, and Quality Improvement subcommittees made up of patients and professionals. We get our directives from the Centers for Medicare & Medicaid Services (CMS) and work with the facilities that provide care to kidney patients.
The PAC desires to bring about positive changes in the quality of care that those living with kidney disease receive. PAC Mission statement: "to express the opinions of the ESRD patient population of Network 13 serving the states of Arkansas, Louisiana and Oklahoma. PAC members represent the ESRD patient population by actively participating in Network duties assigned to promote quality care". The PAC promotes positive improvements in the quality of care by being a "voice" for all patients. As patients, members serve on different committees so that there is input by patients as educational tools are being developed, quality of care issues occur, and regulations change. PAC members help to keep the kidney patient perspective in mind. In essence, members want to advocate for your concerns and issues regarding your care.
The committee focuses on the Kidney Koncerns newsletter, as a means to communicate important information to you. The educational articles, surveys, and helpful tips are designed with you in mind. Write in and tell us your issues, opinions, and successes. We would love to hear your story! PAC members speak at Network 13 conferences and other meetings to present a "patient's perspective" to the professionals that provide your care. The PAC also provides feedback on Quality Improvement activities and the impact on patients. Committee members review patient education materials utilized in the Quality Improvement activities.
The PAC has the task of providing input to Network 13 and the MRB on the concerns and needs of kidney patients. While we are patients ourselves, everyone is different and we understand this. If you have a concern or need, please write or call and let us know. It truly is our desire to serve everyone's interests. We want to make your life smoother by improving the quality of care that you receive.
If you are interested in being considered as a PAC member, contact us.
Toll free: 1-800-472-8664
Email: hbinkley@nw13.esrd.net
Mail: 4200 Perimeter Center Dr Ste. 102 Oklahoma City, OK 73112-2314
We hope to have an impact on positive changes in the care that all kidney patients receive and make lives better for one and all. Your voice can make a difference in the lives of others. Call or write and let your voice be heard!
PDF Version of PAC mission
Network Patient Representative (NPR)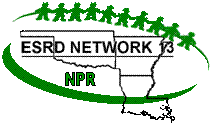 What is the Network Patient Representative Program?
Dynamic patients make up the NPR program, and they volunteer in their facilities to work with staff toward fostering a positive treatment facility environment. An NPR is a patient in the facility who actively promotes patient education and well-being by maintaining a patient bulletin board that promotes patient and staff educational materials and activities. The NPRs may also coordinate other patient and staff activities in their facility. Look for your NPR bulletin board today!
Volunteer!
Dialysis Facility Search
Searching for Facility Nationwide? Use Dialysis Facility Compare (DFC) Web site, Created by Medicare, Provides Database-search for All Medicare Approved Facilities in the United States.
Searching for Facility in Network 13?
Grievance Policy
PATIENT-CONSUMER GRIEVANCE POLICY
This grievance process is available to provide a method of consideration for concerns, complaints, or grievances of ESRD patient-consumers.
A COPY OF THIS POLICY SHOULD BE PLACED IN A LOCATION THAT IS EASILY ACCESSIBLE TO ALL PATIENT-CONSUMERS OF THE FACILITY. Facilities are required to annually document, in all patients' Plan of Care, that a copy of this policy has been received and understood (with assistance if necessary) by the patient. It is the right of all ESRD patient-consumers to file a grievance when the patient-consumer feels it is needed. Annually, facility staff should review this grievance policy with patients to ensure accessibility, understanding and receipt of revisions (if any).
Patients are encouraged to utilize the facility grievance resolution process prior to filing a grievance with the Network. All facilities are required under CMS Conditions of Coverage to have an internal grievance process that is posted and accessible to patients-consumers.
It is the policy of the ESRD Network 13 Grievance Committee to process all grievances in a timely, impartial and confidential manner.
STEPS OF THE GRIEVANCE PROCESS
If an ESRD patient-consumer has a concern, unanswered question, or complaint regarding his/her treatment or quality of care, the patient-consumer may exercise their right to file a grievance by following the steps listed here:
STEP 1
The patient-consumer should first address his/her question, concern, complaint or grievance to the person perceived as the source of the confusion or conflict. It is anticipated that most conflict will be resolved in this step. If not resolved by direct communication at the source of the problem, or if the patient-consumer does not wish to address the other person involved, he/she may proceed to Step 2.
STEP 2
All facilities are required under CMS Conditions of Coverage to have internal grievance process. The facility's internal grievance process must be implemented so that the patient may file an oral or written grievance with the facility without reprisal or denial of services. The grievance process must include:
(1) A clearly explained procedure for the submission of grievances.
(2) Timeframes for reviewing the grievance.
(3) A description of how the patient or the patient's designated representative will be informed of steps taken to resolve the grievance.
The patient–consumer is encouraged to utilize the facility internal grievance process to address concerns, complaints and/or grievance regarding his/her treatment or quality of care, staff related complaints or environmental/cleanliness issues. The patient-consumer may consult the facility Social Worker to be an advocate for the patient in accessing the facility internal grievance process. If the patient-consumer wishes to remain anonymous, or appoint a personal representative as his/her spokesperson/advocate, the Social Worker should accommodate and protect the wishes of the patient-consumer.
STEP 3
The patient-consumer may choose to by-pass Steps 1and 2 , and initiate a grievance directly to the Network 13 office. This step may be taken with or without the knowledge of the facility staff involved in the grievance. The grievance may be communicated by telephone or letter. (If the patient-consumer wishes to maintain anonymity, he/she should be made aware that a full investigation may not be achieved.) Grievances should be addressed to:
Chairperson
Medical Review Board
ESRD Network 13
4200 Perimeter Center Suite 102
Oklahoma City, Oklahoma 73112-2314
or call toll free: 1-800-472-8664 or local: 405-948.2255
GRIEVANCE COMMITTEE INTERNAL PROCESS
When a grievance is received at the Network office written notification will be sent to the complainant within five (5) calendar days. It is incumbent upon the Grievance Committee to conduct a professional, impartial, timely and thorough investigation. In some cases the Committee may also provide suggested resolution options and or request a Corrective Action Plan or an Improvement Plan from the facility involved. A findings letter/report will be generated at the conclusion of all investigative activities. The facility will receive the findings report thirty (30) days prior to the patient findings letter and will have fifteen (15) days to provided comment to the patient findings report. The final findings report will be sent to the complainant accompanied by any comments provided by the facility. If the facility chooses to comment, the comments will be included in the findings report in the exact form and content received at the Network office. All Network Grievance Committee activities with the complainant will conclude within ninety (90) days of grievance initiation. If the facility is requested to submit a Corrective Action or an Improvement Plan, this activity may be ongoing as determined by circumstances of the case. All Corrective Action or Improvement Plans will utilize concepts of rapid cycle improvement with designated timelines and reports to the Network.
FACILITY OR OTHER SOURCE GRIEVANCES
Any facility complaint or complaint received from other sources in the renal community will be initiated as Complaints and handled informally utilizing conflict resolution techniques. If the matter cannot be resolved informally, a Grievance may be filed regarding the QUALITY OF MEDICAL/HEALTH CARE PRACTICES in any ESRD Network 13 facility by forwarding a letter to the Network office addressed to the Medical Review Board Chairperson. This letter should provide facts leading to the grievance.
Upon receipt of a Grievance letter as defined above, the Medical Review Board Grievance Committee Chair, and/or other members of the Committee as designated, aided by Network staff, will conduct an investigation to determine the validity of the facts noted in the Grievance letter. Based upon the determination of the Grievance Committee, aided by Network staff, a findings report or letter will be forwarded to the parties involved and recommendations regarding resolution options may accompany the findings report.
What this Policy will not do
This policy WILL NOT address, intervene, apply or circumvent any Personnel Policies within ESRD facilities. Personnel issues or conditions of employment in ESRD facilities are separate and distinct matters, to be addressed through facility's internal processes.
This policy WILL NOT address facility complaints or grievances against patients. There are a host of other mechanisms in place to address such concerns, i.e., application of Decreasing Dialysis Patient/Provider Conflict (DPC) model, behavioral modification agreements, physician intervention, patient referral, patient transfer, patient "rotation" or, in rare circumstances of patient violence, patient service termination. The facility should have policy and procedures for termination of services that abide by the CMS Conditions of Coverage and these should be followed under these circumstances.
Vocational Rehabilitation
Arkansas: Jim Moreland, Program Administrator
Arkansas Kidney Disease Commission
Phone: 1-800-330-0632
Web site: http://ace.arkansas.gov/
Louisiana: Louisiana Rehabilitation Services
Phone: 1-800-737-2963 (inside Louisiana only)
Web site: http://www.dss.state.la.us
Oklahoma: David Couch, Programs Field Representative
Oklahoma Department of Rehabilitation Services
Phone: 1-800-487-4042
Web site: http://www.okrehab.org/
Work Incentive Planning and Assistance (WIPA) Cooperative Organizations
Arkansas:
Sources for Community Independent Living—Project AWIN
1918 Birch
Fayetteville, AR 72703
1-888-284-7521 Toll Free
479-442-5192 FAX
www.arsources.org
Serving the entire state
Louisiana:
LSUHSC Human Development Center
Lloyd DeMers, Director
Louisiana Work Incentive Planning and Assistance (LAWIPA) Project
LSUHSC Human Development Center
1900 Gravier Street, 10th Floor
New Orleans, LA 70112
888-942-8104 Toll free
5041-568-6761 FAX
E-Mail: ldemer@lsuhsc.edu
www.lawipa.org
Hours of Operation:
9:00 a.m. to 4:00 p.m.
Serving the parishes of—Acadia, Allen, Avoyelles, Beauregard, Bienville, Bossier, Caddo, Calcasieu, Caldwell, Cameron, Catahoula, Claiborne, Concordia, De Soto, East Carroll, Evangeline, Franklin, Grant, Iberia, Iberville, Jackson, Jefferson Davis, La Salle, Lafayette, Lincoln, Madison, Morehouse, Natchitoches, Ouachita, Pointe Coupee, Rapides, Red River, Richland, Sabine, St. Landry, St. Martin, St. Mary, Tensas, Union, Vermillion, Vernon, Webster, West Baton Rouge, West Carroll, and Winn.
Advocacy Center
Louisiana Work Incentive Planning And Assistance Coalition
Address: 1010 Common Street,
Suite 2600,
New Orleans, Louisiana 70116
Telephone Numbers: 504-522-2337
and 1-800-960-7705
WIPA Statewide Toll-Free: 1-888-942-8104
FAX Number: 504-522-5507
E-Mail address: dgallegos@advocacyla.org
AC Website: www.advocacyla.org
Hours of operation:
9am—5pm
Extended Call In Hours:
Monday to Friday: 4:30 – 8:30 PM
Saturday & Sunday 9:00 AM – 3:00 PM
Contact Person: David Gallegos
SELAWIPA Project Director
Serving the parishes of—Ascension, Assumption, East Baton Rouge, East Feliciano, Jefferson, Lafourche, Livingston, Orleans, Plaquemines, St. Bernard, St. Charles, St. Helena, St. James, St. John the Baptist, St. Tammany, Tangipahoa, Terrebonne, Washington, and West Feliciano.
The National Center for Disability Education and Training
Jill Burgess
OWIPA Project Director
3200 Marshall Avenue, Suite 201
Norman, OK 73072
405-325-8130
405-325-1632 FAX
http://ncdet.ou.edu/index.htm
Serving the entire state
Patient Educational Resources
SLUDGE in the BLOOD Posted 10/19/2007
Kidney School – Table of Content Posted 10/19/2007
Life Options – 10 Symptoms of Kidney Disease Posted 10/19/2007
NKF – Chronic Kidney Disease (CKD) Posted 10/19/2007
NKUDIC (National Kidney and Urology Disease Information Clearinghouse)- Information available in both English and Spanish Posted 10/19/2007
Patient Educational Events